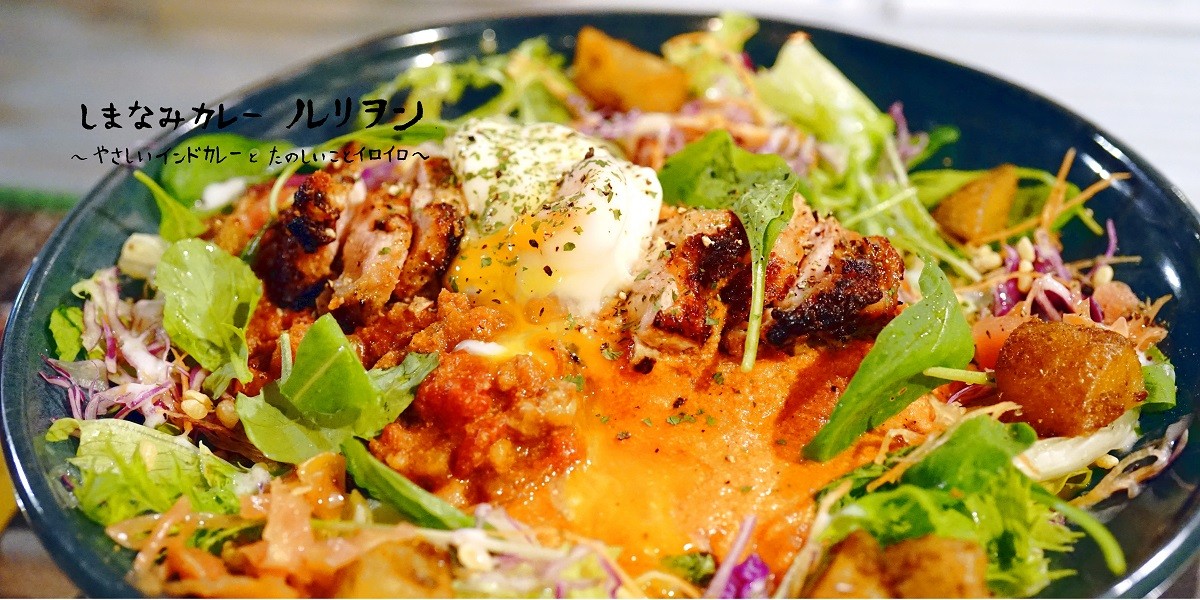 We prepare the menu in English.
We serve dishes for vegetarians and vegans.
We are poor at English, but we can try to communicate with you. We have a lot of regulars and visitors of foreigners.
【Payment】
Please pay in cash as a general, but all major credit cards, traffic e-money, "iD","QUICPay"and "Apple Pay" are available when you pay over 2000yen.
Curry
Set Meal for Vegetalians or Vegans
Set meal vegetalians or vegans can eat at ease.

・ Two kinds of curries'
You can choos'e one or two dishes' from below

① Dal curry : Beans' curry
②Sag curry : Spinach curry
③ Spicy tomato curry with soy meat
④Spicy tomato curry with roasted vegetables'
⑤Spicy tomato curry with lemon

・ Side dishes'
・ Vegetable pickles
・ Sabji : Fried vegetables and beans with spices'.

・ Salad (A large seaving)
with harb salt instead of dressing.

・ Turmeric rice

・ Papad : Beans cracker

・ Optional choice
・ A large serving curry —– 300yen
・ A large serving rice —– 100yen
・ A supplement addition of another curry —– 300yen
1,200yen
Rurryon's Plate
You can choose two kinds of curries' from below.

● Today's curryies'
①Red seabream curry
 With Rurryon's original soup stock made from red seabream in Setouchi Sea.
②Buttered chicken curry
 Creamy curry with cahew and fresh cream base used aging chicken of Hiroshima.
③Keama curry with lemon pork
 Curry with rough minched pork ; Pigs are bred with green lemons in Iwagi Island, Well-suited with buttered chiken."
④ Spicy tomato curry with chicken
 Spicy curry with lemon and tomato used aging chicken of Hiroshima.You will be pleased with sourtaste and hottaste."
⑤ Spicy tomato curry with soy meat
 With plenty of healthy soy meat exactly lime the real meat.
1,000yen
Drink
・ Original homemade Chai inapproriate for vegetablians
・ Original homemade Lassi inapproriate for vegetablians
・ Hot coffee
・ Iced coffee
・ Original homemade Ginger ale
・ Lemon soda
・ Cola
・ Orange juice
400yen
Alcohols
・ Draft beer
・ Small bottle of Heartland Beer
・ Highball (Wisky with soda)
・ Whisky and Coke
・ Indian wine 【red】
・ Indian wine 【white】
500yen
Sweets
| | | |
| --- | --- | --- |
| | Original homemade gelato | 300yen |
| | Fondant chocolate with gelato | 500yen |